"A soup like this is not the work of one man. It is the result of a constantly refined tradition. There are nearly a thousand years of history in this soup."
Willa Cather, 'Death Comes for the Archbishop' (1927)
Miso soup is so easy to make. As a seasonal recipe, it lends itself to a myriad of vegetables from the land and the sea. A super souper food in Japan, it is a power breakfast, snack, and go to nutritionally dense broth.  Many ingredients are added depending on regional and seasonal recipes, and personal preference.
Miso is made from soybeans or some other legume, fermented with rice or another grain, and salt. The result is a salty, pungent, umami and sultry all - purpose seasoning paste. The , savory paste is considered live, since it is fermented, so it is advised not to boil miso, and instead add it to warm soup at the end of cooking. Thus, the good bacteria remain alive and unharmed. It is said that the bacteria in miso help promote digestive health, eliminate toxicity in the body, and support high functioning immunity. In Okinawa, Japan, where they have the highest population of centenarians in the world, many elders eat miso soup before each meal.
Mushrooms offer their own healing properties. This recipe includes different mushroom varieties which help enhance immunity. When choosing mushrooms for their health benefits, it's a good rule to stick to the Japanese varieties. In this soup, there is shitake, maitake, and enoki.  These varieties all exhibit immune-boosting, antimicrobial, antiviral, anti-cancer and blood pressure-regulating effects.  There is much dynamic research being done on the effects of these medicinal mushrooms. While you can probably find shitakes at most supermarkets these days, these other varieties can also be found at Asian markets and farmers markets. Always try and buy organic or better yet forage with an expert and get some fresh air and have an gourmet adventure.
Seaweed is most often included in miso soup. Sea Vegetables are among the highest nutritionally dense foods in the world. Another staple in Japanese cuisine and coastal peoples, they contain 10 times the calcium of cow's milk and several times more than red meat. Sea veggies are also high in protein and a rich source of a variety of vitamins such as A, B, C, E, and B12 and minerals iodine, potassium, and magnesium.
It is generally thought if the water is safe for seafood; it is also safe for eating nutritious and delicious seaweed. Bun Lai is an Asian American chef, environmentalist and social activist who is passionate about climate change and rethinking the way "life should be lived and business should be done." He has graciously donated the base seaweed for our Super Hero Miso Soup.  He is the owner and chef of Miya's in New Haven, CT and is an avid diver and fisherman who supplies his own restaurant with hyper local sustainable seafood from his own hundred acres of shell-fishing grounds off of the Thimble Islands in Connecticut. He is the owner of two fishing boats which serve as laboratories for sustainable seafood.
Other seaweed used in the broth and for condiments came from Maine Coastal Sea Vegetables.  They are freshly harvested sea vegetables which are low-temperature dried and hand packed with minimal processing in their facility in Maine. Their  healthy and tasty seaweed products are certified organic, gluten-free, soy-free, dairy-free, GMO-free, and mostly raw. These sea vegetable are available in natural food stores. The dules and laver variety were used.
South River Farm, a family owned artisan Food Company located in the foot hills of the Berkshire Mountains in Conway, MA. supplies the miso paste used as the base of this recipe. They have been making hand crafted, wood fire, certified organic miso for over thirty years abiding by centuries- old, Japanese farmhouse tradition. Their careful food preparation is considered essential to their act of healing arts. We use the Azuki Bean and Sweet White Miso variety in this recipe. They also have some sumptuous varieties like Dandelion and Leek and Chickpea for you to experiment with add some excitement to your wellness menus.
The name of this miso soup comes from my 3 year old daughter Soleil's waking up every morning and calling me her "Super Hero". I don't know where she got that from, I don't know how long it will last, but I know I am so blessed to have her see me in that way. I try my best to be the greatest mom possible. One of the ways I do that is to cook for my daughter the way my mom did for me with all whole foods. She loves seaweed and I fostered that love early because it is one my favorites too. This soup is a wholesome powerhouse which will hopefully prepare you for any endeavor you need to take on. The recipe is meant for you to exercise your imagination with what you have on hand. Improvise with your basket from the farmers market and see how you can make your miso burst with healthy creativity every single time.
"Soup puts the heart at ease, calms down the violence of hunger, eliminates the tension of the day, and awakens and refines the appetite." Auguste Escoffier
Super Hero Winter Miso Soup
"Good soup is one of the prime ingredients of good living.  For soup can do more to lift the spirits and stimulate the appetite than any other one dish."
Louis P. De Gouy, 'The Soup Book' (1949)
If you are feeling slightly under the weather, OR even before you get to that point, stock up on this soup so that you remain healthy all winter long!
·         Fresh ginger (to taste)
·         Local Mushrooms
·         Miso Paste (to taste) White River, Conway, MA
·         Seaweed, chopped  Miya's Thimble Island Seafood Farm, Branford, CT, & Maine Coastal Sea Vegetables , Franklin, ME
·         Potatoes, chopped  White, Food Project, Dorchester, MA & Red, Noonday Farm, Winchendon, MA & Blue, Chaplin Farms, Chaplin, CT
·         Carrots, chopped North Star Farm, Westport, MA
·         Onions, sliced  North Star Farm, Westport, MA
·         Garlic, minced  Noonday Farm, Winchendon, MA
·         Garnish ideas: Sliced radish, black sesame seeds, sesame oil, scallions, leeks, chives, soaked wakame seaweed, dulse flakes
Add sliced mushrooms (except enoki, which don't have to cook) to pot of boiling water with 1 tablespoon (or more) of freshly grated ginger. Lower heat to a simmer and cook for 5 minutes.
Add seaweed, potatoes, carrots, onions, and garlic Cook for 5-7 minutes until are potatoes are cooked through. Turn heat down to low and add enoki mushrooms.
Ladle out about 1 cup of warm broth into a small bowl, and dissolve about 1 tablespoon of miso paste into it. Add miso-broth back into soup. Taste, and dissolve more miso paste in as taste dictates.
Ladle into serving bowls and top with garnish of choice.
A Rainbow of Colors, Textures, Tastes, Shapes & Nutrition
Use an assortment of seasonal veggies for the greatest variety of colors, textures, flavors and nutrients in your miso soup. For example, choose from reds (chard, cabbage, beets, pepper potatoes); greens (kale, cabbage, celery, beans, spinach, broccoli, asparagus, chive, peas, seaweed); yellows and oranges (carrots, yams, sweet potatoes, corn, rutabagas, winter squash, butternut squash); and white (onions, summer squash, turnip, daikon, radish, leek).
You can also enjoy playing with different vegetable cuts from diced to sliced to minced on an angle to chunky, to delicate julienne (matchsticks). Onions, for example, taste the same anyway you cut them, however the chefs at Cooks Illustrated found that onions hold their shape better in soups and stews when sliced from end to end (also known as pole-to-pole.) Any way just have unabashed fun.
We are making our luscious soup for Haley House Meals Program. Their  Souper Bowl IV  this Sunday from 2- 6 PM in Boston, will provide sufficient funds to purchase one month's supply of food to be served in the soup kitchen.  Their program offers wholesome nourishment to mind, body and spirit in Boston's oldest soup kitchen, situated in the South End neighborhood. More than simply serving food, the Meals Program is intent on building community and relationships at six breakfasts and three elder meals per week.  It serves home-cooked, nutritious meals as a way to create a space of refuge from the violence and anonymity of the streets.  There are no metal detectors or law enforcement officers present.  The personalist focus of the Meals Programs offers a broader perspective on the systems that create hunger and poverty, while working to create alternatives to those systems.  
The gorgeous soup bowls provided by Clay for Change is a student activity group at Massachusetts College of Art, and "Empty Bowls" is one of its primary initiatives.  With "Empty Bowls," the students make bowls to raise money for those who are in need of food.  Their goal is to help Mass Art to make strong connections with communities that need help.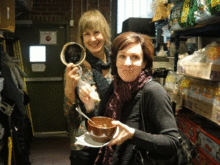 "Soup is cuisine's kindest course.  It breathes reassurance; it steams consolation; after a weary day it promotes sociability, as the five o'clock cup of tea or the cocktail hour." Louis P. De Gouy, 'The Soup Book' (1949)
Global Local Gourmet is a community supported kitchen. We empower people through culinary education. Creating interactive programs and events around an appreciation of delicious food and lifestyle, we inspire sustainable communities through the pursuit of epicurean pleasure. With our partners, our goal is to show the interconnectedness of our world through food and culture while promoting business practices that respect the environment and each other.
Global Local Gourmet is a gastronomical oasis for the food and art inquisitive, to mix, mingle, and cook, with the diversity that the region has to offer in produce, people, and artisans. Whether you are a novice or a gifted gourmand, Global Local Gourmet has a class or program for you.
Chef Nadine is from Toronto, considered the most multicultural city in the world. She is of Jamaican Heritage and likes to combine global flavors with local ingredients.  If you want to learn more about Global Local Gourmet and Chef Nadine please visit:  http://globallocalgourmet.tumblr.com , email:  nadine.nelson@gmail.com, or call: 917-719-6859.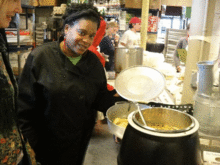 "Do you have a kinder, more adaptable friend in the food world than soup? Who soothes you when you are ill? Who refuses to leave you when you are impoverished and stretches its resources to give a hearty sustenance and cheer? Who warms you in the winter and cools you in the summer? Yet who also is capable of doing honor to your richest table and impressing your most demanding guests? Soup does its loyal best, no matter what undignified conditions are imposed upon it. You don't catch steak hanging around when you're poor and sick, do you?" Judith Martin (Miss Manners)